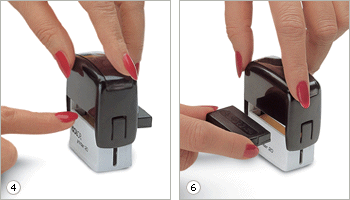 Instructions on how to Re-Ink COLOP Stamp Pads
1. Push the top of the stamp down slightly (about 1/4").
2. Push in on the two buttons on the side of the stamp. This locks the stamp in place.
3. Place the stamp so that the cover (with the logo) faces you.
4. Push from the back of the stamp with your finger. The ink pad will pop out the front of the stamp.
5. Holding the ink bottle over the ink pad, gently squeeze the bottle. Let six drops (maximum) of ink to fall on the ink pad. Do not over ink your stamp!
6. Insert a pad back in place.
7. Once you have inserted the pad, push down on the stamp top. This will release the buttons that locked the stamp into place.
Buy Refill-Ink for Self-Inking Stamps